Be very careful if you see Teacup Yorkies advertised for free, it is likely to a scam or rip-off!
I just wanted to put out an alert after being tipped off to yet another scam.
In this scam someone claimed to have two teacup Yorkies puppies for adoption/rescue, therefore as they just wanted to rehome them, they were willing to offer them to anyone who wanted them for free.
While on the surface this offer appeared to be genuine, it turns out there were no puppies at all and to 'cover costs of shipping' you had to wire money via Western Union to Cameroon in Africa!
The rule, it is seems too good to be true, it probably is – definitely applies here!
Be careful of any teacup puppies for sales at a suspiciously low price.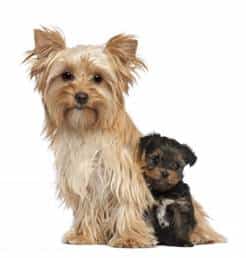 Whether you know them as Teacup Yorkies or also miniature Yorkshire Terriers, Teacup Yorkshire Terriers, mini Yorkies, micro Yorkies or Toy Yorkies – there is no doubting that these small puppy dogs are sought after and relatively expensive.
So forget the idea that some kind soul is just going to be giving them away for free.
If you really are trying to find them on the cheap then is a teacup right for you?
The ongoing costs will certainly add up when you include potential vets bills.
It is far better economy to spend more on a teacup from a genuine, ethical breeder where you will pick up a well-cared for dog that will save you money by being healthy and having less problems and health issues in the long term.
Be very wary of people Teacup Yorkies for sale on Facebook or in classified ad websites such as Gumtree and eBay, many scammers operate here when people are at their most vulnerable, desperate to get a teacup dog at a bargain price.