Welcome to the (very small) Yorkshire Terrier world and on our website you will find plenty of facts, information and frequently asked questions about this special breed of dog.
Teacup Yorkie is a popular term but they are also known as miniature Yorkshire Terriers, Teacup Yorkshire Terriers, mini Yorkies, micro Yorkies and Toy Yorkies.
In short they are very SMALL Yorkshire Terrier dogs!
Whether you have lived with the breed before, or are simply looking for your first Yorkie, then there is no going back now!
In all honesty, and over so many years of working with the Yorkie, I have never known anyone who lived with a Yorkshire Terrier not to completely fall in love with the breed.
This opening page covers an overview of the breed but I have specific detailed pages on aspects such as training your Teacup Yorkie.
---
We do recommend if you are serious about learning how to look after your new Teacup Yorkie you consider buying the complete owner's guide to the Teacup Yorkie. Expert breeders and owners have combined with a top dog trainer with all your frequently asked questions answered in one place. This one-stop 'instruction manual' is the essential companion to your lovable mini Yorkie.
This book is a must-have guide for any responsible owner of a Teacup Yorkie.
Available on paperbook or ebook…
Click here To Buy the Complete Owners Guide from Amazon.com…
Click Here To Buy the Complete Owners Guide from Amazon.co.uk…
The book is available in both paperback or ebook (Kindle) formats from every Amazon website worldwide so just search your local Amazon for it.
---
What is a Teacup Yorkie and how big do they get?
Official breed standards for showing an adult Yorkshire Terrier insist that a Yorkie must weigh between four pounds (1.81 kilograms) and seven pounds (3.17 kilograms).
The teacup is a phrase that is used to describe a Yorkie that at full adult size is less than four pounds in weight.
An average teacup Yorkie weighs between one and three pounds as an adult dog.
Famous for her small size is 'Sylvia', an English Yorkie who was the smallest dog in recorded history at 2.5 inches tall and weighing just 4 ounces!
The Kennel Club holds the monopoly of breed standards for all dog breeds in the country. They decide size, weight, colors and characteristic of every dog breed.
Although they only allow show dog status of a dog above four pounds, they do accept that a fully bred Yorkshire Terrier can be under this weight and they can be Kennel Club registered.
A teacup Yorkie, whether registered or not, will not require a dog license in the USA or the UK.
Do also consider costs when buying – insurance for a teacup Yorkie will naturally be higher than for a normal Yorkshire Terrier.
Also healthcare costs are an issue, in particular vets bills. Your Yorkie may be no different to a normal Yorkie but they can suffer from hypoglycemia and other health issues if poorly bred – always chose a good breeder to buy from.
Are Teacup Yorkies a Good Family Pet and Are Children Safe?
Teacup Yorkies have high energy levels, this makes them good dogs for children. They are active, sometimes to the point of being "hyper," but since the breed needs a lot of exercise, it's actually good for the dog to play with the kids until both sides of the equation drop from exhaustion. Yorkies love the activity, and they can have a fun and entertaining sense of humor chasing balls and engaging in games.
As is true for any dog, it is important that you supervise any interaction between your children and the dog. Very young children may not understand that a small dog like the Teacup Yorkies is fragile and they might unknowingly hurt the dog or treat it too roughly. You are unlikely to have any trouble with your puppy interacting with children, but all dogs have the capacity to become aggressive if they are frightened or mistreated. Teach your children how to properly handle a dog, especially when it is still a puppy, to prevent incidents.
Don't tolerate rough or aggressive play from either, and explain to children that small Yorkies like "nice touches." When puppies get too rough or mouth their fingers when teething, respond with a firm, "No!" Soon enough, all parties will get the point.
Even if you do not have children, it is advisable to expose your dog to children during puppyhood to prepare the animal to behave correctly during any future encounters. Being good around children is a critical part of any well-behaved dog's repertoire of manners.
For prospective owners with young children, I'd encourage them to select a puppy from a breeder who has socialized their dogs with children of all ages. This helps to make sure the puppy is confident enough around children to tolerate their odd sounds and movements. Temperament is key — a shy, reserved, or anxious puppy should never be considered for a home with children. When a puppy lives in a home with children, it is important to have a crate or other safe space for the puppy to retreat to when the kids become too much!
History of the Teacup Yorkie
The teacup Yorkie of today is a far cry from the much bigger original breed.
The Yorkshire Terrier, commonly known as the nickname 'Yorkie', was initially bred and finely tuned as a bold working dog to catch rodents, such as rats and mice.
He was originally ten to fifteen pounds of solid terrier, much heavier than the fine-boned Yorkshire Terriers of today.
It is believed that in the eighteenth century, when the Scottish people began to move down into England to look for work, they brought their working terriers, such as the Clydesdale and Skye Terriers, with them into the Yorkshire area.
This Scottish and English Terrier combined, resulting in a black and tan terrier type. This dog is an ancestor of our own Yorkie.
It is believed that every single black and tan dog in the area, for a long time, was called a Yorkshire Terrier.
Eventually a landowner from Huddersfield in Yorkshire began to breed from one particular famous champion terrier, a dog named Bob, who was born in 1865 and was a highly skilled working dog.
It is said that all of today's pedigree Yorkshire Terriers are, in some way, related to Huddersfield Bob.
In 1872, the Yorkshire Terrier was imported into America and recognized by the American Kennel Club in 1878, who have placed the breed in the toy group because of its size.
Today it is one of the most popular breeds of dogs in America – in 2006 it was second only to the Labrador Retriever in terms of number of registrations at the American Kennel Club.
Famous Yorkies include Audrey Hepburn's 'Mr. Famous', who starred with her in the film 'Funny Face', and there has even been a Yorkie in the White House – President Nixon's daughter had a dog named Pasha.
Although Toto in the film 'The Wizard of Oz' was played by a Cairn Terrier, it was originally illustrated as a Yorkshire Terrier in the book.
In the comedy film 'Meet the Fockers', the Focker family (Dustin Hoffman and Barbra Streisand) have a female Yorkie cross called Moses.
In 'High School Musical 2', Sharpay Evans (Ashley Tisdale) frequently carries a Yorkie named Boi.
To me it's amazing that a dog who originates in a small English county is now one of the most popular dog breeds in the world.
Today's Yorkie is very different from Bob, the great Grandfather of all; nowadays the most common Yorkie is lighter and often more interested in a squeaky toy than a rat.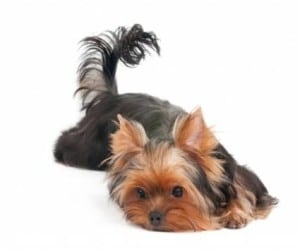 Even in my lifetime the breed has got smaller. Toy and teacup Yorkshire Terriers are more regularly seen than the bigger dogs of a few decades previous.
Their hair is finer and they often need to wear jackets outdoors (and sometimes even indoors).
The Yorkshire Terrier is known for a long silky coat that is a golden-brown color at the head, chest, and legs, although puppies are born black and tan and slowly attain their natural color.
The typical Yorkshire Terrier has a flat head, a medium-sized muzzle, intelligent eyes and V-shaped ears standing erect.
This very cute look is often made cuter when owners tie the long hair up in a bow to keep it out of the eyes.
The nature of the breed varies. Some still carry the fearless heart and reactive nature of their original breeding.
This reactive nature can become a problem if not handled properly.
In particular, the badly socialized, or over-pampered Yorkie who ends up in rescue with this reactivity can be a difficult dog to house train.
Some Yorkshire Terriers, and particularly the smallest of the breed, are more biddable and are truly homely little dogs.
These little ones are more likely to love you to death than bite. I live with one of these – well, one and a half if you class our cross breed – and I couldn't recommend or praise their genuine nature enough.
There is something special about a little Yorkie face looking up at you and the wagging of a tiny Yorkshire Terrier tail.
The charm of this breed is exactly why I know that if you bring one home today, you will have a Yorkshire Terrier in your heart, and probably your home, forever more.
The Yorkie is a breed easily recognized. He is a slight and silky terrier with a distinctive yap and an endearing face.
Since tail docking was made illegal in many countries, thankfully, he now has a tail which wags readily.
When you get to know a Yorkie, you will find that he is a thoughtful dog who will easily work out how to manipulate you.
He certainly, as a dog breed, knows how to get what he wants and is highly intelligent. With his sense of humor and tenacious determination, he will soon have you wrapped around his tiny paw.
The most common colors are black and tan or silver and tan.
I wanted to write this guide dedicated to the tiniest Yorkshire Terriers out there because they are a character all of their own.
Alan Kenworthy
PS – Want to know even more – take a look at my Teacup Yorkie book…
You can find other information on Teacup Yorkies/miniature Yorkshire Terriers/Teacup Yorkshire Terriers/mini Yorkies/micro Yorkies/Toy Yorkies on our other pages covering: adoption, accessories, clothes, care, cost, growth chart, names, health, information and facts, jewelry, lifespan, outfits, rescue, adoption, temperament, YouTube videos and weight chart.
Popular pages on this website:
Training your Teacup Yorkie Puppy
Grooming, Care and Handling your Teacup Yorkie
Bathing & Cleaning Your Miniature Yorkie
Teacup Yorkies For Sale – Buying Guide
Here is a video of two teacups playing:
Helpful External Resources for the Yorkshire Terrier:
The UK Kennel Club – Yorkshire Terrier Breed Guide